Proactive Search Engine Optimization (ProSEO) Marketing Solutions
Proactive Search Engine Optimization (ProSEO)
 

Marketing, is a Synergy of Local Search & Marketing 

Strategies that Increase Organic Ranking!
WebPodium, like other Digital Marketing Agencies, provide Search Engine Optimization (SEO) and Marketing Strategy Consulting to other Businesses, as well as, to our own Clients.  Yet, WebPodium's ProSEO Marketing Methodology is what separates us from the pack.
ProSEO Marketing promotes your Online Brand throughout the Internet Accurately, Consistently and Purposefully to attain Your Business Objectives and Marketing Goals.  Our Synergized SEO & Marketing Solutions were developed over time with Processes that Get Results.  (Visit our ProSEO Client Results Page to see Real-Time Client Ranking Results.)
The ProSEO Marketing Strategy is based on Success Principles, like Forward-Thinking, Coordinated Task Execution, Collaborative Content Generation, and Strategic Backlinking to establish a Competitive Marketing Edge of Expertise, Authority & Consumer Trust (EAT).
Your Website must promote Trust, Load Fast and be Mobile Friendly (Responsive) to Convert Customers in Today's Digital Marketplace.  Today's Online Consumer allows only 5-7 seconds of decision time before they click or swipe to go elsewhere.  It is well known the 1st Impression (of Your Business Website), is a Lasting Impression.  Let's make Your Customer's 1st Impression Awesome with ProSEO!
Get 1st Search Page Ranking Results like Our Featured Clients!  ProSEO Marketing Gets Results!
Industry Best ProSEO Expertise
Our Clients are on the 1st Google Search Results Page (SERP) for their Targeted Keyword Search Phrases and Locations.  You can see the results for yourself in our Featured ProSEO Client Portfolio.
Mobile Friendly Website Design
Having a Mobile Friendly Website with a Modern Design is a Must-Have Today. WebPodium builds Business Websites. Our Business Websites have Content Funnels, Generate Leads & Succeed.
Google & FB Ads for Marketing
Marketing Strategy is applying the right Methods and Services to the right situation, to achieve the desired goal. We Strategically use Ads, SEO, and Social Media our Marketing Strategies.
Managed IT Support Services
Don't wait until your Business System's Downtime Costs You. Contact our IT Support Staff to get all Your Systems Running Smooth Today and Protected Tomorrow!  That is What We Do!
"Success is not what you accomplish in your life… It is about what You Inspire Others to Accomplish in Their Lives..."
ProSEO helps Entrepreneurs take Ideas from Concept, to Startup, to Successful Business Enterprise. 
WebPodium, Inc. is your Online Business Success Partner.
Real ProSEO Clients & Real Ranking Results
Many Search Engine Optimization (SEO) Agencies will present past results with Case Studies and Screenshots, but how many will confidently provide Real-Time Results of Current Clients?  Below Links are Real-Time Results of our Real ProSEO Client.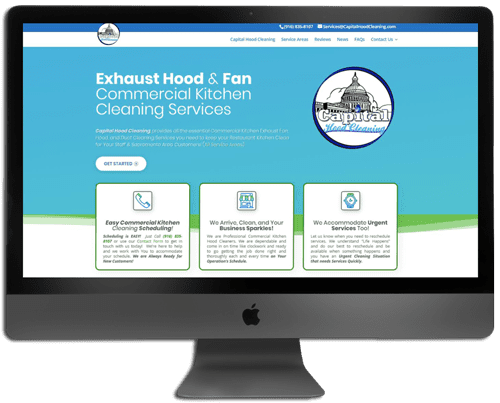 Capital Hood Cleaning is a Professional Restaurant Commercial Kitchen Hood Cleaning Service in Sacramento, California.  They are a ProSEO Client.
Below are Keyword Search Phrase Links that a Potential Customer would type in the Google Search Engine to find a Sacramento Kitchen Hood Cleaning Service. 
Please Click on any of the Links below and see Real-Time ProSEO Results:
WebPodium is an Online Business Solutions Provider that helps Small & Medium-Sized Businesses (SMBs) Present their Business Offerings to Online Consumers. Our Services are Modular and Configurable, so we can offer only the services needed for your "current business needs", allowing Your Business to grow from Idea to Enterprise.
Our Mission
Provide Proactive Search Engine Optimization (ProSEO) with Ad Marketing Solutions enabling Small & Medium-Sized Businesses to Excel in Today's Digital Marketplace.
To provide a Cost-Effective Services Subscription Model using Modular Marketing Components Customized Specifically to Requirements of Each Client reducing upfront costs.
Our Vision
To become a Comprehensive Entrepreneur's Business Solution guiding them through proof of concept Ideas, to Startups, to Successful Businesses.
We look beyond our offerings of Web Design, SEO, Marketing, and Managed IT Support Services to the future of providing HR, Legal, and Accounting to Small Business with Temporary Staffing & Full-Time Employee Services.
Why Choose Us?
Our founders have over 75 Years of Combined Information Technology Business Experience having worked in the Military, Government Consulting, Executive Staffing, Software Development and in IT Services Support. We have the Knowledge and the Experience to help Your Online Business Succeed. 
What Our Customers Say About ProSEO Marketing Services
Our ProSEO Digital Marketing & Advertising Services are dedicated to the Success of Our Clients which we Showcase with Real-Time Search Ranking Results in our Client Results Page Profiles. Seeing is Believing with ProSEO Marketing.
"I've been with WebPodium ProSEO Marketing for almost 5 years and I ask my Customers every time how they found my business.  It's like a broken record, "on Google" or "I did a Search" and rarely is it Angie's List, HomeAdvisor or Yelp.  You can find my Driveway Gate & Garage Door Service Listings at the top of a couple-dozen Cities in my Service Area and I'm usually booked out for months in advance.  ProSEO Marketing Rocks!" (Click Here for Real-Time Client Ranking Results!)
"CFS Fire Protection, Inc. has been with WebPodium for over 4 years now and I can't say enough good things about their services. They manage my Business Email, the Website, and even helped us integrate Jobber to streamline our Northern California Service Area Operations.  All I need to say to anyone reading my review is, I am on the 1st Page in over 150 Northern California Cities, and I have literally asked them a few times to turn my website off, because I can't hire qualified Fire Protection Services Staff as fast as I get more business. If you want your Service Area Business to get found online, you want WebPodium's ProSEO Marketing!" (Click Here for Real-Time Client Ranking Results!)
"I was skeptical in the beginning, but didn't believe Yelp Advertising was really doing much for my business, so I gave WebPodium ProSEO Marketing a chance.  It did take a few months to see the increase of the phone ringing, but it is clear now that I made the right decision having to increase my staff to handle the growing customer base.  My website is consistently in the Top-1, 2 or 3 SERP Listings on Google, thanks to WebPodium ProSEO Marketing!" (Click Here for Real-Time Client Ranking Results!)
General Inquiries: WebPodium ProSEO Marketing Form